Frost River Isle Royale Jr. Pack 732 (USA)
Sold out
Original price
$400.00
-
Original price
$400.00
Bushcraft-- wilderness self reliance skills— the ability to not only survive, but thrive for extended periods in the woods. For some, it can take a lot of gear to thrive, for others, all they need is a trusty knife, a hatchet, and the wealth of knowledge accumulated over a lifetime. Our Isle Royale Bushcraft Packs are built to carry big or small loads. All three sizes are designed narrow, for exploration, slipping between dog hair aspen and brush, these packs blend classic materials and construction with updated features for modern classic backwoods adventures. With lots of organization in the form of pockets, attachments and straps, there's space to keep gear where it needs to be. Plus, there's plenty of capacity in the tall, narrow pack body.
Frost River Isle Royale Jr. Pack.  18″h x 15″w x 6″d, actual 1620 c.i. Expanded volume, 2916 c.i.(approx.)
FEATURES
-Twin, vertical 2-in-1 pockets straddle an axe sleeve. Pair it with one of our Wood Craft Axes. -Each pocket is roughly the size of a 1L bottle and provides a space between the pocket and pack body to stow a folding saw or other long, thin object and keep it handy. -Premium Buckskin padded backstraps are distinctive and comfortable. -Ships with sturdy sternum strap installed. -All the straps are carefully selected and cut from a side of strong harness leather. -Lashing and compression at the sides with bridle leather straps, tough diamond-braid nylon cord and solid brass rings and buckles. -A slip pocket at the bottom of each side panel, two D-rings on the lid and lash squares at the bottom (four squares on the full size and Jr., two squares on the Mini) allow gear to be stored on the outside of the pack. -The lid features a slim pocket for maps or other essentials. -Outer pockets feature solid brass grommet weep holes to purge duff and water. Each of the bushcraft packs now come with a waist belt holder built in. A Medium Cotton Web Belt that fits 30"-44" is always included with No.730, the full sized Isle Royale. 
WE BUILD ALL OUR WAXED CANVAS FROST RIVER PACKS, BAGS, AND ACCESSORIES AT OUR SHOP IN DULUTH, MINNESOTA.
The Isle Royales are no exception. Weather and abrasion resistant waxed canvas from Fairfield Textiles in New Jersey, premium leather from the S.B. Foot Tannery in Red Wing, Minnesota, along with robust, solid brass hardware, all come together with heavy thread and pack building know-how by our experienced sewing and production staff here in Duluth, Minnesota, USA. We know how to build a pack the right way, guarantee it to last, and will be here with service and repair should it need to be refurbished after years of service. There is a symbiosis created when carrying a pack handcrafted of natural materials into the field. The canvas and leather blend with nature in a way that modern synthetics can't. The swish going through brush is softer. The scrape over rock is subdued, the natural colors and organic textures just fit. The smell of warm leather in the sun, the beaded water droplets, fresh off a canoe paddle stroke, glisten just a bit brighter on waxed canvas than they do on with man-made materials. There's unique character in a handcrafted, waxed canvas pack. It's meant to be used in the woods, as it has been for generations. It remains relevant, and reminds a person to make plans to get back out again soon. Those of us who care about what we carry, and can see an object for more than the sum of its parts, will notice an inherent value and a sense of camaraderie between an outdoor traveler, a trusted pack, and the road, the stream, the journey… Add a Windigo Signal Bag and some straps to add a zippered pocket that lets you blend in or stand out, depending on your needs and changing environment.
PERSONALIZE YOUR PACK WITH A CANVAS MY STATE LEATHER PATCH, DETAILS BELOW.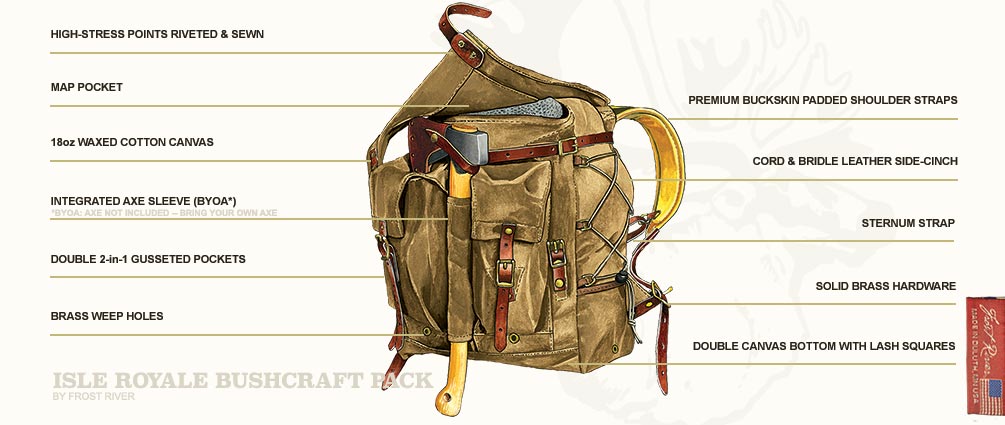 | | |
| --- | --- |
| SIZE | 730 – Isle Royale, 732 – Isle Royale Jr, 733 – Isle Royale Mini WC |
| SIZE / VOLUME | I.R. 23″h x 15″w x 8″d, actual 2760 c.i. Expanded volume, 4968 c.i. (approx.), I.R. Jr. 18″h x 15″w x 6″d, actual 1620 c.i. Expanded volume, 2916 c.i.(approx.), I.R. Mini 15″h x 15″w x 5″d, actual 1125 c.i. Expanded volume, 2025 c.i. (approx.), I.R. pockets 11″h x 5″w x 3″d, Jr. pockets 10.5″h x 5″w x 3″d, Mini pockets 8″h x 5″ x 3″d. |
| WEIGHT | I.R. approx. 7 lbs, I.R. Jr. approx. 5.5 lbs, Mini approx. 4.4 lbs. |
| POCKETS | 4 external (2 two-in-one, 2 slip.), 1 internal map pocket. |
| CLOSURE | Internal rain flaps, large flap over main compartment. |
| SHOULDER STRAPS | Harness leather, foam pad,, buckskin, plus sternum strap. |
| COMPRESSION            | Leather strap and buckle, cord, and D-rings. |
| BASE | Double canvas. |
| MATERIALS | 18 oz. waxed canvas, premium leather, solid brass hardware. |